Lavazza Bourbon Vending Intenso - coffee beans - 1 kilo

7.99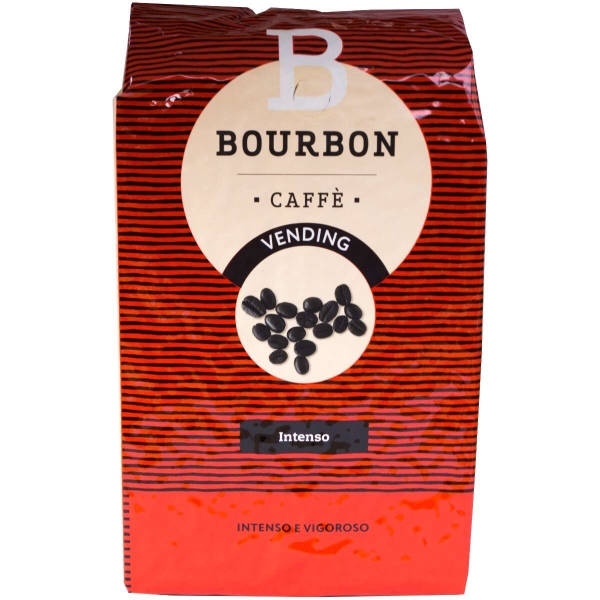 Fast shipping in the EU
This product is out of stock
But we are convinced we have an alternative that has the same or better quality.
Please have a look at this alternative:
Café du Jour Espresso Ottima Qualità
Café du Jour Ottima Qualità is a blend of coffee specially formulated for a powerful cup of coffee from fully automatic coffee machines. Or one-press blend as we call it here
You know it? The coffee from your fully automatic coffee machine is okay but you still miss that extra bit of strength. That's why we created Ottima Qualità. A blend based on an Italian recipe but optimised for fully automatic coffee machines
Discover the powerful flavours of Lavazza Bourbon Vending Intenso coffee beans. This premium Italian coffee combines the intense aromas of dark chocolate and spicy notes for an unforgettable coffee experience. Take a new step in your coffee adventure with these delicious, full-bodied coffee beans from Lavazza.
Details
Delve into the rich world of Lavazza Bourbon Vending Intenso coffee beans, where flavour and quality go hand in hand. These premium Italian coffee beans, carefully roasted by Lavazza, a brand synonymous with excellence in the coffee world for over 120 years, offer a refined taste experience you won't want to miss.
Intenso coffee beans are characterised by their powerful flavour profile, with subtle notes of dark chocolate and spices. This blend is composed of high-quality Arabica and Robusta beans, selected for quality and character, and roasted to bring out their unique flavours. The result is an intense, full-bodied coffee that is not only delicious for espresso, but also perfect for cappuccino or latte.
More than just great flavour, Lavazza Bourbon Vending Intenso coffee beans are a promise of a superior coffee experience. Whether you're a barista or just a coffee lover, these beans certainly won't disappoint.
More Information

| | |
| --- | --- |
| SKU | CDJ-LAVBOINTEN |
| EAN | 8000070039025 |
| Brand | Lavazza |
| Produced in | Italy |
| Pack size | 1 kilo |
| Coffee type | Coffeebeans |
| Intensity | Very strong (4/4) |
| Taste & aroma | Herbs, Nuts |
| Variety | arabica & robusta |
| Suitable for | Espresso, Filter coffee, Cappuccino |
| Caffeine | With caffeine |
Reviews