Always coffee at home? Let us handle it! A coffee subscription from Café du jour is super handy and no strings attached.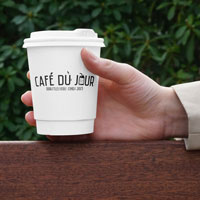 A subscription at Café du jour is fixed in a minute. Just head over to the product page and select your favorite product, don't worry if you have more than one favorite. Just make sure to select "take subscription" before you put them in your shopping cart.
Just as simple as it is to get a subscription it's just as easy to cancel. We know how annoying it can be to be stuck on a subscription. We agree! That is why we made it easy to cancel. When you enter your account head over to my subscriptions and with one click you can either change your subscription or cancel.
Putting a subscription together.
with the Café du jour subscription it doesn't matter what coffee you want. Every brand and every type is available in a subscription. You can for example take a subscription on Lavazza or Segafredo, or you can choose any of our fresh roasted coffee's for your subscription. Furthermore it doesn't matter if you want just one bag or five, if u wanna combine different products. everything is possible.
If your looking for a product on the website there are several option under the titel of the product, shipping options, type, content and the button for "one time buy" or "subscribe for 2% discount". Press subscribe and more option will appear to schedule the interval for delivery. For example:
Want to receive multiple packages? Make sure to choose the right amount left of the green button.
Continue on to your shopping cart and press check-out. Fill in your information for the automatic collection and your done. We only charge you after we ship your order or repeated order.
Wanna cancel, take a break?
Want to cancel or just take a break because you're going on a holiday? No problem, you can easily log into your account and head over towards "my subscriptions". There you'll find an overview of all your subsciptions with information like the next date of your order or the option to cancel or take a break. It's easy and no strings attached, you can always cancel.
Coffee subscription of all populair brands
In short: at Café du jour we ship weekly, monthly or whenever suits you best. your favorite cup of coffee on demand, and you can cancel whenever you feel! No more coffee on the grocery list! convinced? Choose your own favorite brand below and search for the project you want a subscription of. If you have any more questions check out our frequently asked questions or you can send us an e-mail or call (MA-VR 9:00 uur tot 17:00 uur op 0031 10 669 05 11).