Segafredo Espresso Casa - coffee beans - 1 kilo

9.49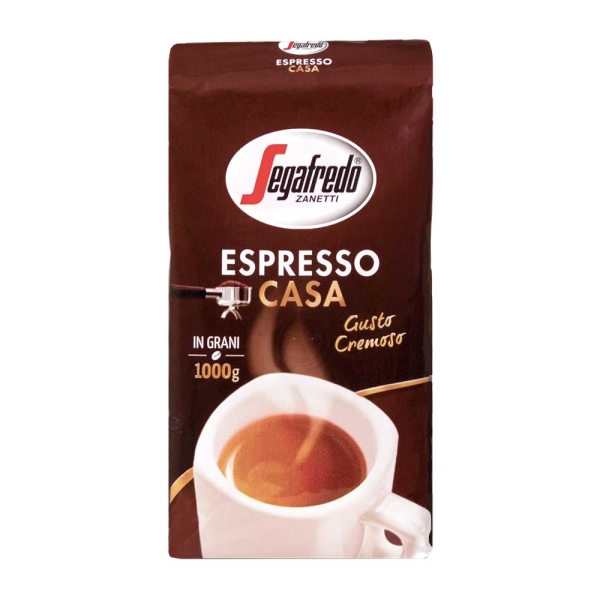 For 16 pieces
9,21
Incl. VAT.
Or one for 9.49
Choose the number of pieces:
8 pieces

16 pieces

24 pieces

48 pieces

All prices mentioned in this block include VAT.

Fast shipping in the EU

The Espresso Casa is coffee like the picturesque Italian coffee bars where Italians really feel at home. Escape the daily hectic and enjoy a cup of coffee that gives you an authentic Italian feeling. A nice bonus is that it is also very competitively priced. Our advice: are you looking for an affordable espresso coffee for your fully automatic coffee machine for daily use? The Espresso Casa comes highly recommended. It is quite spicy but still so drinkable and balanced that almost everyone likes it.

The Segafredo Espresso Casa beans. The pack contains segafredo coffee beans. The content of the pack is 1000 grams. This is a mix of arabica and robusta beans.
Details
Experience the seductive charm of Segafredo Espresso Casa coffee beans. These premium coffee beans guarantee a sublime taste experience that transports you straight to the heart of an Italian espresso bar.
Each bean is the result of a carefully crafted blend of the finest Arabica and Robusta beans. The Arabica beans offer a smooth and subtle flavour, while the Robusta beans give a nice, strong finish and provide that sought-after crema layer on your espresso.
These beans are medium to dark roasted, resulting in a flavour profile that is both rich and balanced, with notes of chocolate and a hint of nuts, making every sip a true delight. Segafredo Espresso Casa coffee beans offer the perfect balance between sweetness and acidity, making it an ideal choice for all coffee lovers.
Grinding your own beans is the ultimate way to ensure the freshness of coffee. And with Segafredo Espresso Casa coffee beans, you can be sure that you have a top-quality product in your hands. These are beans that you will enjoy grinding, with the aroma of freshly ground coffee filling your kitchen.
Whether you are looking for the perfect bean for your morning coffee or afternoon coffee, Segafredo Espresso Casa coffee beans will not disappoint. Enjoy the true taste of Italy with every sip you take - a flavour unparalleled in its refinement and complexity.
A powerful blend of arabica and robusta beans
Segafredo Espresso Casa coffee beans are the perfect choice for lovers of intense coffee with a powerful and spicy body. Composed of the finest Arabica and Robusta beans, this blend reflects Segafredo's passion for authentic Italian coffee.
The unique blend of Segafredo Espresso Casa
Segafredo espresso is an authentic espresso with a spicy body that perfectly reflects the traditional Venetian art of coffee roasting. This blend is characterised by surprising aromas extracted from green coffees, and with every brew of Segafredo Casa, caramelised fruit comes together in a harmonious blend.
Segafredo Zanetti brings the Italian coffee experience to life in every delicious sip, where the rich flavour of cocoa, honey and almonds embraces the senses. Enjoy a masterpiece in every cup of coffee.
Espresso Casa's coffee beans combine carefully selected beans from Brazil, Costa Rica and Colombia. The blend is characterised by the surprising aromas of caramelised fruit that come together in every cup. The balance between Arabica and Robusta beans results in a flavour profile reminiscent of dark chocolate with pleasant rinses.
More Information

| | |
| --- | --- |
| SKU | CDJ-SEGCAS |
| EAN | 8003410311089 |
| Brand | Segafredo |
| Produced in | Italy |
| Pack size | 1 kilo |
| Coffee type | Coffeebeans |
| Intensity | Medium (2/4) |
| Taste & aroma | Chocolate, Herbs, Nuts |
| Variety | arabica & robusta |
| Suitable for | Espresso, Filter coffee, Cappuccino |
| Country of origin | Brazil, Costa Rica, Colombia and Ivory Coast |
| Caffeine | With caffeine |
Enjoy Segafredo Espresso Casa in every cup
These medium-roasted coffee beans are perfect for espresso, but also for other coffee-making methods, such as filter coffee. The spicy blend and irresistible aromas of chocolate and honey make every cup a special experience.
Costa Rica, Colombia and Ivory Coast - An international journey in every Espresso
The Robusta beans in this blend are specially selected for their creamy flavour, with hints of cocoa, honey and almonds. The finish is powerful and long-lasting, allowing you to savour the rich flavours.
Buy Segafredo Espresso at Café du Jour
Discover the powerful body, spicy character and full flavour of Segafredo Espresso Casa coffee beans. Be taken on a journey to Italy's picturesque coffee bars and experience Segafredo's passion in every cup. Enjoy the true taste of Italian coffee with Segafredo Espresso Casa.