Café du Jour Espresso Madrugador
5.95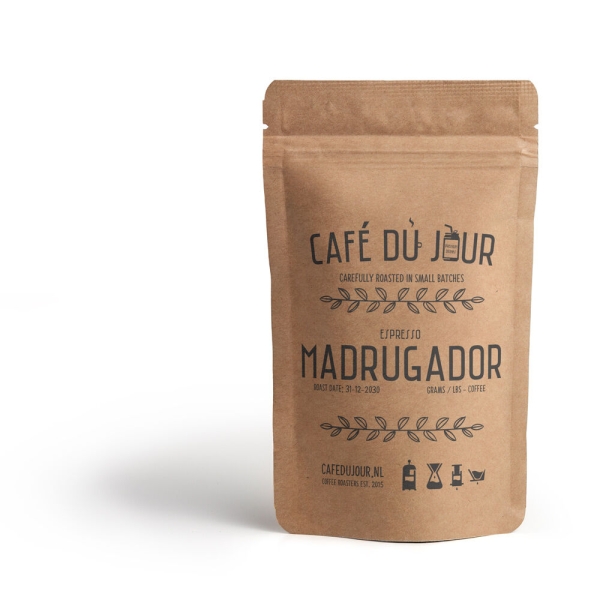 Early bird (or totally not)? Espresso Madrugador is a firm (medium roasted) espresso specially developed to be an extra powerfull espresso to bring a good start to the day. Your day will start good with a shot of Madrugador. You do need some guts because this is not a mild blend! A little fruity Espresso with a strong spiced, feisty kick. The Madrugador is the flagship coffee of our coffee types and is made in an authentic small roastery in a small barrel above a little gas fire. After every batch the roast master leaves the beans to rest for a few hours, maximum of one day and the taste is put to the test. Only if everything is perfect will the beans be packed. Packed in an airtight packaging where only remaining gasses can escape from and no air enters. The day of roasting is always recent and never longer then four weeks ago. The day of roasting is always stated on the front side of the packaging.
Details
Traditonally roasted for authentic and excellent quality
The Café du Jour Madrugador is blended in expert ways, roasted in small batches in traditional ways and tested by the roast master. The Madrugador is the flagship of our fresh coffee types. The Madrugador is roasted in our authentic roastery in a barrel above a small gas fire. The roast master makes this type totally analogue. During the roasting process he takes out a few beans to check them for their colour and colour. When the batch is ready the beans are laid to rest for a few hours and tested for their taste after. Only if the batch checks all the boxes the beans are packed in an air tight bag that only lets residue gasses escape. The date of roasting is always stated on the front of the bag and is never more than four weeks ago.
With care selected coffee beans
To assemble the Madrugador blend we select the highest quality of coffee beans out of South-America, Indonesia and Central America. The blend consist mostly of Arabica coffee beans with a touch of Robusta's to add that spicy touch and aftertaste.
Resealable Coffee packaging.
Whether you decide to buy 250 grams, 500 grams or a kilo coffee beans the packaging will always be resealable. The coffee packaging is provided with a special resealable edge so the packaging is always closed airtight. On the front of the bag is fitted with a filter so air and other gasses can escape the bag without letting air in. This is how we make sure everything is done to save the freshness of your coffee!
More Information

| | |
| --- | --- |
| SKU | CDJ-CDJESPMAD |
| Brand | Café du Jour |
| Country of Manufacture | Netherlands |
| Coffee type | Coffeebeans, Ground coffee |
| Intensity | Strong (3/4) |
| Taste & aroma | Chocolate, Nuts |
| Variety | arabica & robusta |
| Suitable for | Espresso, Filter coffee, Cappuccino |
| Country of origin | Guatemala, Colombia, Indonesia |