Café du Jour 100% arabica Ethiopia

5.95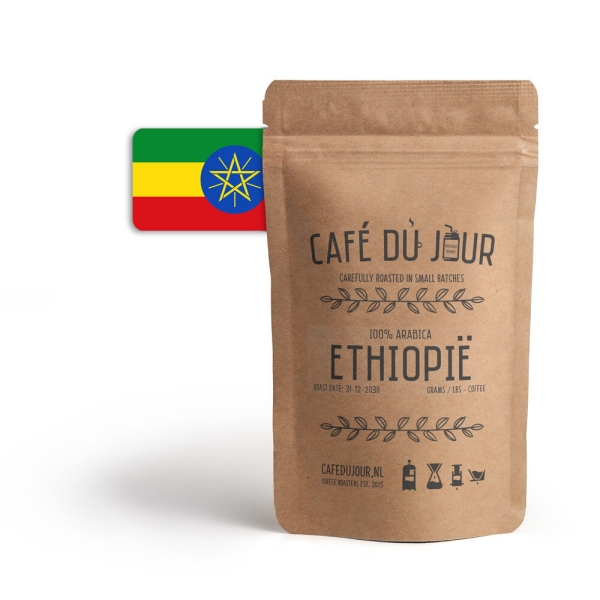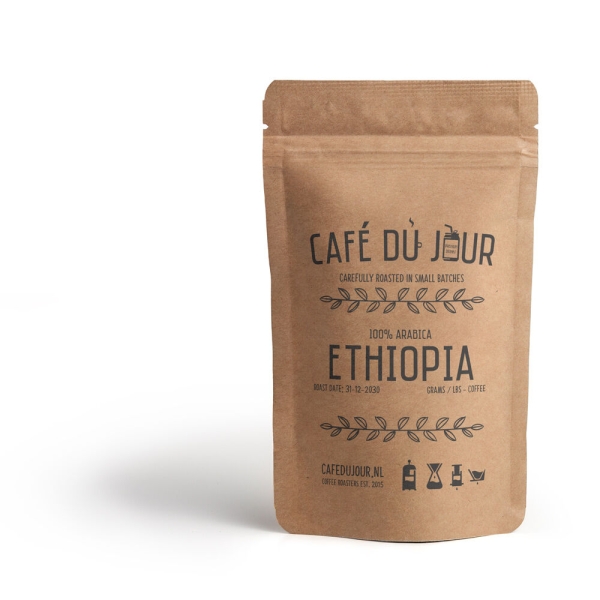 Fast shipping in the EU
Ethiopian freshly roasted coffee
A full, slightly fruity, floral taste with a slightly spicy aftertaste. This coffee is very balanced because it is a blend of several 100% Arabica coffees, leaving mainly the good qualities you want in a good cup: slightly intense, medium body, medium acidity.
Details
Buy coffee from Ethiopia?
Ethiopia is considered the birthplace of coffee. The story goes that a goatherd noticed that his goats became more active after eating certain berries. These were, of course, coffee berries. From 300 AD to the 15th century, coffee was then drunk regularly, but in a different way than we do today. Boiling water was poured directly over the coffee berries. It was not until the 15th century that it was discovered that the flavour improved many times over if the coffee berries were roasted first. This is when coffee was discovered in its current form.
Freshly roasted coffee from Café du Jour
Café du Jour's own-brand coffee beans are roasted on a small scale by a specialist roaster. The beans are roasted and stocked weekly, so the roasting date is always recent. The roast date is therefore noted on the packaging label.
Resealable coffee packaging
Whether you buy 250g, 500g or a kilo Café du Jour coffee beans: they always come in a special resealable packaging. The coffee bag has a special resealable rim so you can always re-pack the coffee airtight. On the front of each bag is a valve, this allows gases and air to escape from the bag without allowing air from outside to flow back into the bag. This way, we do everything we can to preserve the optimal freshness of your coffee!
More Information

| | |
| --- | --- |
| SKU | CDJ-CDJETHLEK |
| Brand | Café du Jour |
| Produced in | Netherlands |
| Coffee type | Coffeebeans, Ground coffee |
| Intensity | Strong (3/4) |
| Taste & aroma | Fruity, Herbs |
| Variety | 100% arabica |
| Suitable for | Espresso, Filter coffee, Cappuccino |
| Country of origin | Ethiopia |
| Region | Lekempti |
| Caffeine | With caffeine |