Delivery options at Café du Jour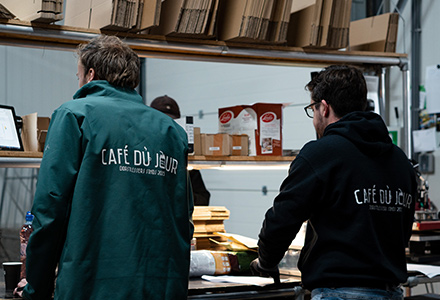 Delivery in EU-countries within 1-5 days
We can deliver to the EU-countries listed below. If your country is not listed, it is probably because of tax-laws or extra requirements for your local customs-office. In those cases we can unfortunately not calculate the shipping cost on the website because the costs are variable. If you want to order, please send us an e-mail with your address and the products so we can make you an offer.
If you want to order to an address listed below, you can directly place your order through our website. The delivery time is 1 - 5 days.
Please note that the prices on this page are indications. The actual shipping price can be somewhat lower or higher depending on the weight of your parcel. The exact price is calculated in the checkout.
Verzendtarieven overige landen
Within a week with DPD
Tariff
Austria
€ 6,95
Belgium
€ 0,00 (from price)
Bosnia & Herzegovina (from price)
€ 35,41
Bulgaria
€ 16,38
Croatia
€ 23,40
Cyprus (from price)
€ 32,58
Czechia
€ 10,93
Denmark
€ 12,81
Estonia
€ 20,20
Finland (from price)
€ 17,43
France
€ 6,95
Germany
€ 0,00 (from price)
Greece
€ 16,96
Hungary
€ 11,58
Ireland
€ 6,95
Italy
€ 11,47
Latvia
€ 11,42
Lithuania
€ 15,45
Luxembourg
€ 7,31
Netherlands (from price)
€ 0,00
Poland
€ 9,95
Portugal
€ 14,77
Romania (from price)
€ 17,95
Serbia (from price)
€ 34,75
Slovakia
€ 11,99
Slovenia
€ 10,35
Spain
€ 6,95
Sweden
€ 15,81