Café du Jour Descaler 4x50g descaling powder
6.95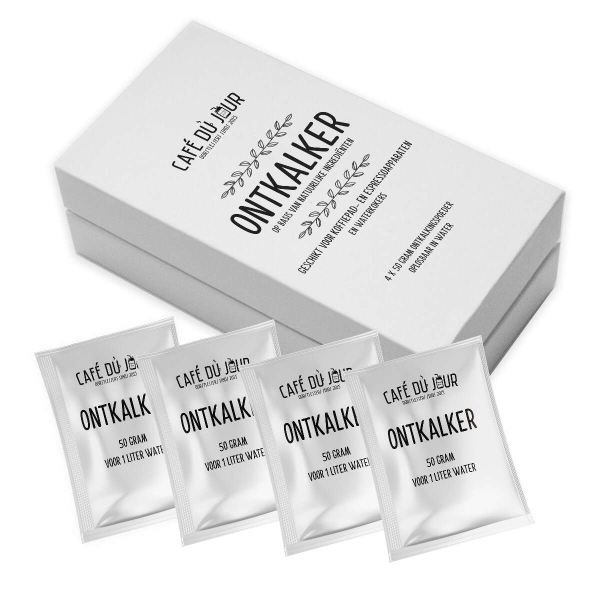 The Café du Jour descaling sachets are ideal for quick and thorough descaling of your coffee machine. Depending on the size of your coffee maker, you fill the water tank with about one litre of water and dissolve the contents of one descaling powder sachet in the water. Then let it stand for ten minutes, then drain half the water and after another ten minutes repeat with the remaining water. Then rinse with clean water and your coffee machine is ready to use again!
Suitable for all types of coffee and espresso machines with a water tank. Also suitable for coffee pod machines such as Senseo machines.
Also available as liquid descaler.
Details
Instructions: Dissolve 50 grams of descaling powder in one litre of water. Pour the mixture into your machine's water tank and leave for 10 minutes. Switch on the machine until half the liquid has passed. Switch off the machine. Let the product soak for another 10 minutes. Turn on the machine again until the cycle is complete. After treatment, rinse the water tank well, then fill it with clean tap water and then let the machine work at least three times with only water so that no limescale residue or aftertaste remains. For coffee pad machines, place a used coffee pad in the pad holder to filter out any limescale residue. Also suitable for descaling kettles: let the one-litre mixture boil in the kettle. Then let it rest for 10 minutes. Then rinse the kettle. If you need more or less than one litre of descaling mixture, you can use a mixing ratio of 1:20. Any residue left behind by this descaling powder is not harmful to health when ingested but tastes unpleasantly sour. Therefore, always rinse your appliance several times after descaling. Always consult your appliance manual before use and let it be leading. Do not use this product on acid-sensitive surfaces and calciferous surfaces such as marble etc.
WARNINGS AND SAFETY RECOMMENDATIONS IN ACCORDANCE WITH EU DIRECTIVES H319: Causes severe eye irritation. P101: When obtaining medical advice, keep container or label at hand. P102: Keep out of the reach of children. P264: Wash hands thoroughly after handling this product. P305+P351+P338: IF IN EYES: Rinse cautiously with water for several minutes. Remove contact lenses, if possible. Continue rinsing.
More Information

| | |
| --- | --- |
| SKU | CDJ-TB-ONTKALKER4x50 |
| EAN | 8719327118276 |
| Brand | Café du Jour |
| Country of Manufacture | Netherlands |
| Cafeïne | With caffeine |
| downloads | Download instructies |