Café du Jour 100% arabica Gourmet

5.95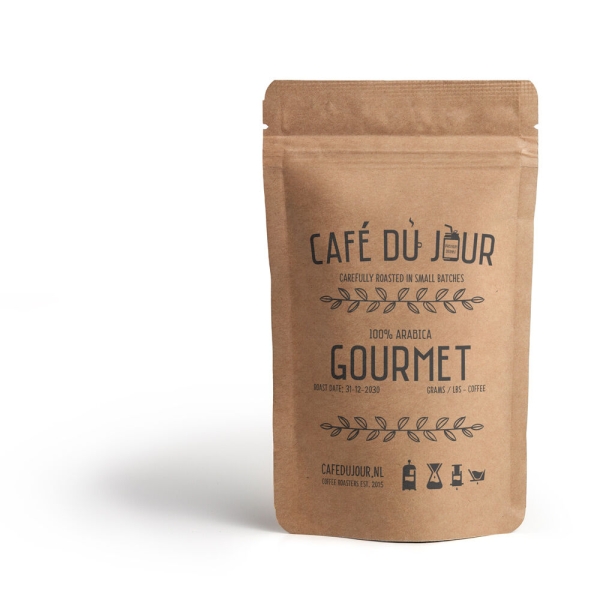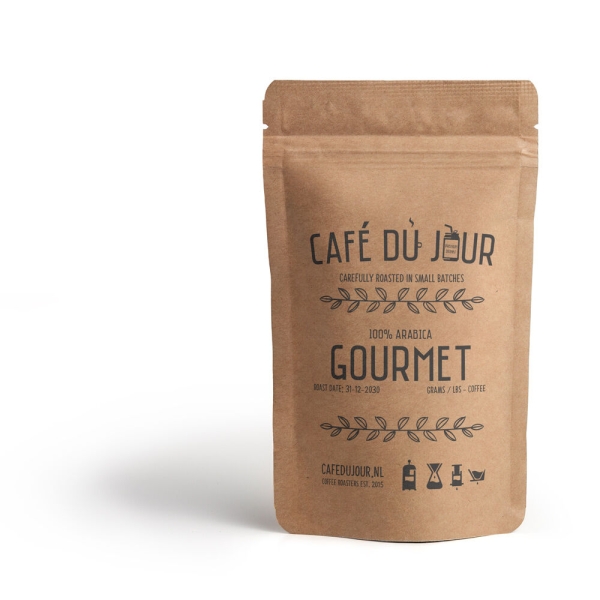 Café du Jour 100% arabica Gourmet is an elegant and balanced composition of no less than ten different varieties of strictly selected arabica. Each variety is individually (!!) medium roasted with the right roasting time and duration. The intensive labour involved in roasting this coffee pays off: a slightly syrupy and velvety body, balanced flavour and subtle sweetness with a remarkably fresh and long-lasting dark chocolate finish.
Ideal for a smooth espresso with a full clear crema.
Details
Café du jour Coffee Beans
Café du Jour's own-brand coffee beans are roasted on a small scale by a specialist roaster. The beans are roasted and stocked weekly, so the roasting date is always recent. The roast date is therefore noted on the packaging label.
Resealable coffee packaging
Whether you buy 250g, 500g or a kilo Café du Jour coffee beans: they always come in a special resealable packaging. The coffee bag has a special resealable rim so you can always re-pack the coffee airtight. On the front of each bag is a valve, this allows gases and air to escape from the bag without allowing air from outside to flow back into the bag. This way, we do everything possible to preserve the optimal freshness of your coffee!
More Information

| | |
| --- | --- |
| SKU | CDJ-CDJGOURMET |
| Brand | Café du Jour |
| Produced in | Netherlands |
| Intensity | Medium (2/4) |
| Taste & aroma | Chocolate, Herbs, Nuts |
| Variety | 100% arabica |
| Suitable for | Espresso, Filter coffee, Cappuccino |
| Caffeine | With caffeine |