Café du Jour fresh loose tea - total package - 8 x 100 grams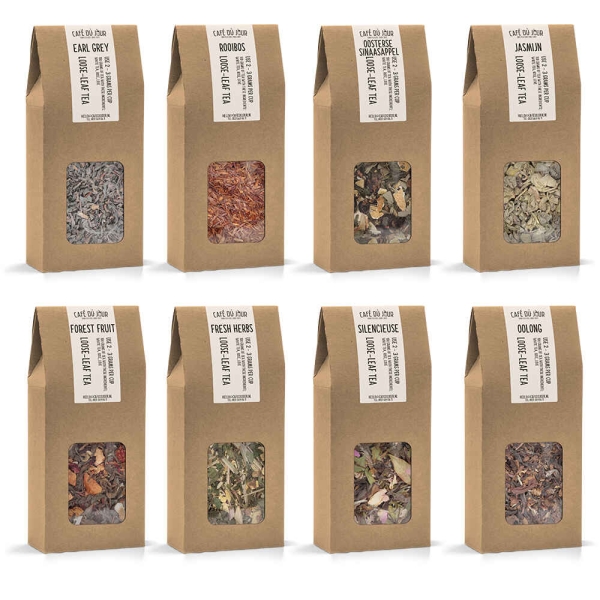 25.59 Regular Price 28.70
Fast shipping in the EU
The Café du Jour fresh tea total package. A delicious combination of the tastiest teas in our range, from a powerful Earl Grey to a delicious Fresh Herbs herbal tea. With this package we want to give you in one go a total picture of what we have in store when it comes to fresh tea. Therefore, you will not only find black tea in the package but also a bag of green tea, oolong tea and even a delicious white tea. In short, the fresh tea total package!
Details
The Café du Jour Tea total package was created to give you a total picture of what we have to offer in terms of tea. Therefore, we have selected eight different teas from our range, all unique in terms of taste, aroma and background! Because every tea has its own story, of course, so let's start quickly:
Earl Grey - 100 grams: Made from the finest leaves and natural aromas, our earl grey is super fresh and deliciously smooth. A true classic in the tea world that has immortalised its place forever.
Pure Rooibos - 100 grams: Originating from beautiful South Africa, our Rooibos is a Heelijke fresh tea that, to top it all off, is also caffeine-free. What more could you want?
Oriental Orange - 100 grams: Oriental Orange is a green tea with a fresh taste slightly spiced by the orange. After a first sip, you might even taste a little eucalyptus or juniper berries.
Jasmine - 100g: The special ensemble of tea and blossom brings us this beautiful tea. The tea leaves are scented twice with the jasmine blossom, giving a lovely full flavour with a delicate fragrance.
Forest Fruit - 100 grams: Forest fruit is a delicious tea with forest fruits. It gets you so awake and provides a positive entry into the day. Take a moment and enjoy.
Silenceuse - 100 grams: A lovely sweet tea with a slightly floral touch. Soft yet so full of flavour. This will make you feel silent.
Oolong - 100 grams: Also called black dragon tea, is a somewhat coarser tea with a lovely sweet aroma. The sweet aroma combined with the nutty character makes for a delicious taste.
The tea total package makes all your tea wishes come true at 1 competitive price. So don't hesitate any longer and spoil yourself, your visitor or someone else with this delicious tea total package, that's all you need, isn't it?
More Information

| | |
| --- | --- |
| SKU | CDJ-T-PKT-TOTAAL |
| Brand | Café du Jour |
| Produced in | Netherlands |
| Caffeine | With caffeine |
Reviews