Café du Jour fresh loose tea - Go Green pack - 4 x 100 grams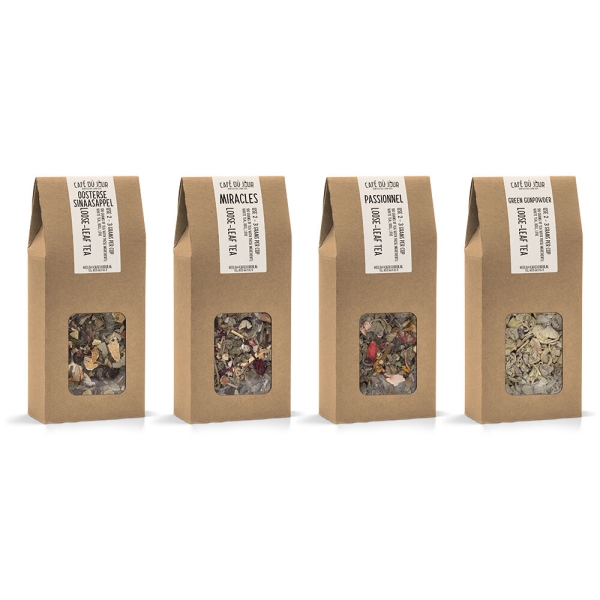 17.70 Regular Price 19.65
These days, everything is green, green in terms of sustainability. Green electricity for electric cars, electric cars that deliver sustainable packages and so on. We at Café du Jour also go Green, We generate our own electricity, make our own packaging materials, recycle our used stuff and so on. And so to encourage this green movement, here is the "Go Green" fresh tea pack. Four delicious teas with sustainability in mind. So you too can do your bit for sustainability, with a nice cup of green tea. Go Green!
Details
The Delicious "Go Green" fresh tea pack consists of four delicious green teas. So you can take a moment to think about how you can become more sustainable, all with a delicious cup of green tea. Because everything is going green, and so are we!
Oriental Orange - 100 grams: Oriental Orange is a wonderfully smooth tea with light hints of orange and eucalyptus. Not only is it super fresh but also very tasty.
Miracles - 100 grams: A real miracle you could say. This delightful tea with liquorice and hibiscus helps you through the day and puts the misery and busyness in the background. And all so you can enjoy it for a while.
Passionel - 100 grams: Anyone with a passion for tea will no doubt already know this one. The mistletoe and goy berries combined with real roses can just put you in a "passionate" mood. Open your heart and let the passion in for a lovely indulgent moment.
Green Gunpowder: A green tea with power like, you guessed it, gunpowder. The leaves are hand-rolled and unfold themselves while pouring for a delicious cup of tea. Super aromatic, and mild-flavoured.
"Go Green" is our home-made support for a green and sustainable future. After all, we all have to do it together, will you join us?
More Information

| | |
| --- | --- |
| SKU | CDJ-T-GOGREEN |
| Brand | Café du Jour |
| Country of Manufacture | Netherlands |
| Cafeïne | With caffeine |