Tasting pack - Strong but not bitter - 4 kg coffee beans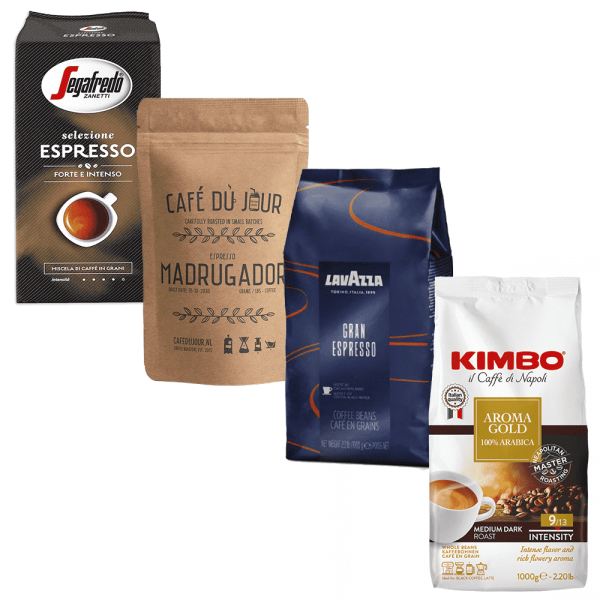 Fast shipping in the EU
After quite a few phone calls, emails, reviews and even a fax message, we got the idea that you were increasingly in need of a coffee that is strong, yet not bitter. Naturally, we have that for you. We chose to put together a package with four strong but not bitter coffees. This way, you can test them at your own convenience, at your own pace! A nice package with the tastiest non-bitter coffees.
Details
We prepared this delicious pack of coffee beans at your behest, after so many questions about strong but not bitter coffee, we had to. Coffee should obviously do two things, wake you up (keep you awake) and taste good (and therefore not bitter). For these reasons exactly, this package was put together. And after much deliberation and discussion, these are the finalists.
Segafredo Selezione Espresso: With an 80/20 ratio (80% arabica and 20% robusta), this is the perfect coffee for this package. The 20% robusta makes for a nice cup with power in it, while the 80% arabica ensures it stays nice and smooth and creamy.
Café du Jour - Madrugador: We blended the Madrugador ourselves to be exactly as you asked, a nice strong coffee that is not bitter. I dare say it definitely succeeded! And 9/10 customers definitely agree with us.
Lavazza Gran Espresso

This delicious blend of high-quality coffee beans has definitely earned its place on this list. The beans are medium roasted, which makes for a rich flavour. You might even taste a little chocolate!

Kimbo Aroma Gold

This coffee is nice and strong on its own due to its Italian background. But then you would expect that it must have a lot of Robusta content but no, this is the only coffee on the list without Robusta. And that is exactly what makes it so special. No robusta but still nice and strong!
More Information

| | |
| --- | --- |
| SKU | CDJ-PPKT-STNBIT |
| Coffee type | Coffeebeans |
| Intensity | Strong (3/4) |
| Caffeine | With caffeine |
It's good to know that our website has many more coffees that meet the criteria; "strong but not bitter". We only chose these to make sure you have a starting point, and because we tested them ourselves. With coffee, everyone's taste is different and that's a good thing, keep experimenting and try something new!
Reviews