Café du Jour fresh loose tea - fruity pack - 3 x 100g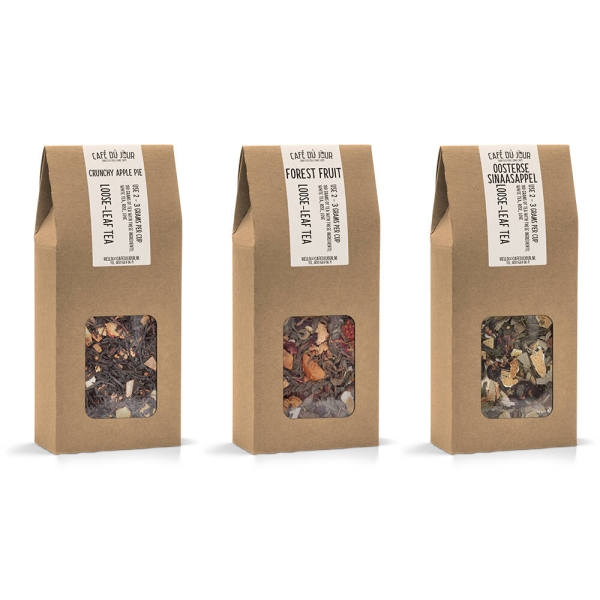 14.53 Regular Price 16.20
The Café du Jour fully fruity fresh tea pack. Who doesn't love a nice sweet cup of tea, tasty with fruity notes and delicious fragrances. Who can't wake you up with it every morning. In this fruity tea pack, we have centred our three best fruity teas so that you tea lovers can try all three in one go. So don't keep yourself in suspense any longer and order today!
Details
This delicious fruity tea pack comprises three of our tastiest and obviously fruity teas. although all three are fruity they all have their own unique flavour.
Oriental Orange - 100 grams: A nice fruity tea that enters the mouth fresh with a spicy touch of orange. And it doesn't stop there, a good fine taste and you taste the eucalyptus and juniper.
Forest Fruit - 100 grams: A delicious lightly sweet forest fruit tea with an uplifting character. So that after a cup of forest fruit you can get on with your day.
Crunch Apple Pie - 100 grams: It takes quite some time to bake a delicious apple pie, but a cup of tea is easy to make. The delicious taste and lovely smell of apple pie will give your visitors a real wow factor!
All delicious fruity tea variations that will blow you and your guests away in no time. Try it now or give it as a gift. You just can't pass up such a fruity tea packet!
More Information

| | |
| --- | --- |
| SKU | CDJ-T-PKT-FRUITIG |
| Brand | Café du Jour |
| Country of Manufacture | Netherlands |
| Taste & aroma | Fruity |
| Cafeïne | With caffeine |
| Ingredients | 1. green tea/orange peel/eucalyptus/ juniper 2. pu erh tea/apple/hibiscus/orange peel/bramble leaf/raspberry/strawberry/stevia/natural flavouring 3. black tea/apple/cinnamon/natural flavouring |
Reviews