Café du Jour fresh loose tea - Alternative Rooibos - 4 x 100 grams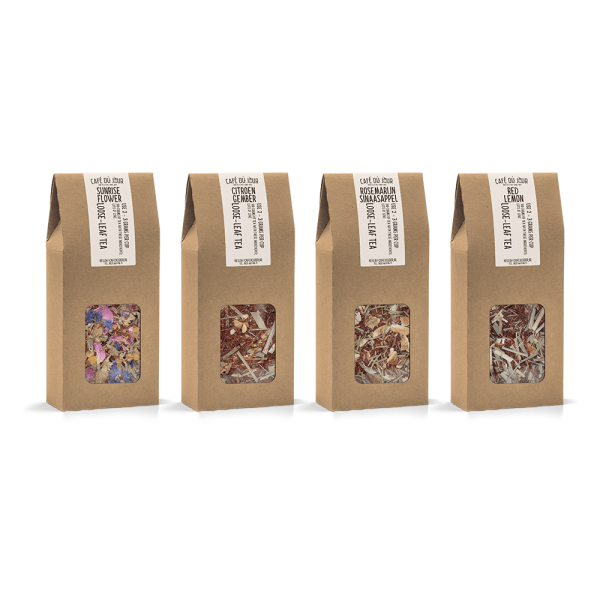 16.04 Regular Price 21.35
This tea pack is for anyone who wants something just a little bit different, an 'Alternative' to that standard cup you drink every day. Four delicious variations with a base of the ultimate classic Rooibos. So have something different, try something new!
"Learn something new. Try something different. Convince yourself you have no limits." - Brian Tracy
Details
The alternative Rooibos package is the package for those who just want to get out of her/his comfort zone. Not a giant leap into the deep end, but just head down. This fresh tea pack contains four variations of the simple but oh so delicious Rooibos tea. All four are completely different and all have their own unique flavour. So take a quick, quick look at the four unique flavours in the alternative Rooibos pack.
Café du Jour - Lemon & Ginger: A delicious flavour experience from a blend of Lemon and Ginger, all with a base of a delicious Rooibos tea.
Café du Jour - Rosemary & Orange: A deliciously sweet, fruity and spicy tea with the delightful aroma of rosemary. And to finish it off, it also contains bits of orange!
Café du Jour - Red Lemon: The Red Lemon tea is a delicious blend of Rooibos and Lemon. Fresh, delicious and a scent to be tempted by.
Cafédu Jour - Sunrise Flower: A delicious Rooibos tea with the fragrant taste of the most beautiful flowers. A cup of the most beautiful spring flowers right in your home!
This tea pack is perhaps not as standard as others, which is why it is not called the 'Alternative' Rooibos pack for nothing. Not like all the others, just a little bit different. And that is something you will definitely taste!
More Information

| | |
| --- | --- |
| SKU | CDJ-T-ALTROOIBOS |
| Brand | Café du Jour |
| Produced in | Netherlands |
| Caffeine | With caffeine |
Reviews