Café du Jour S-Pro (coffee beans)

4228.95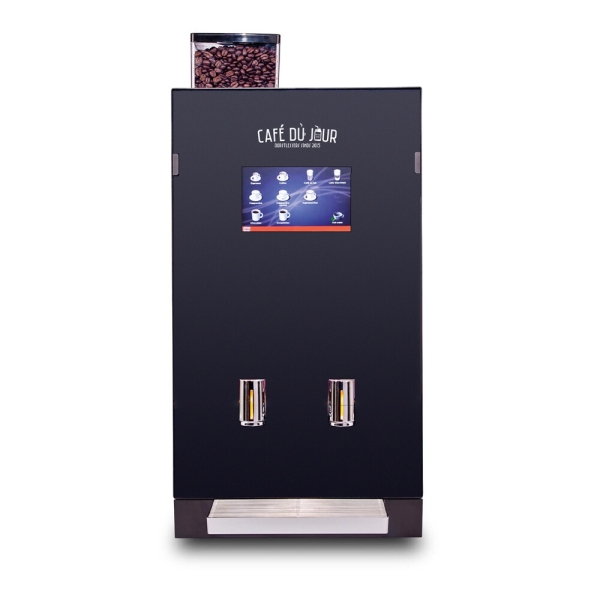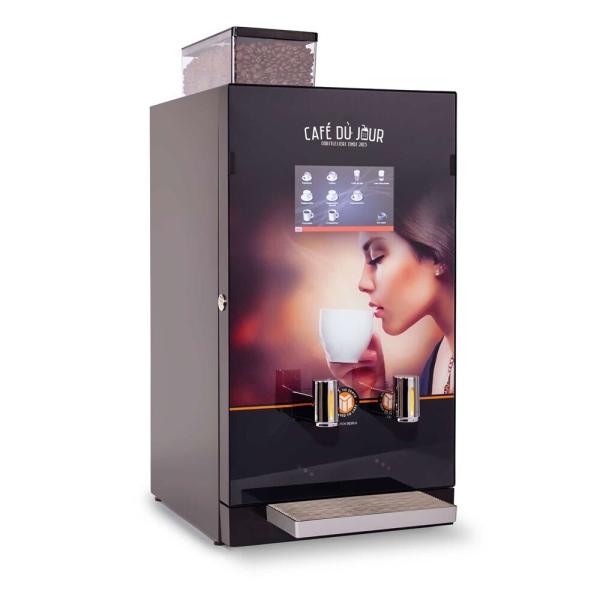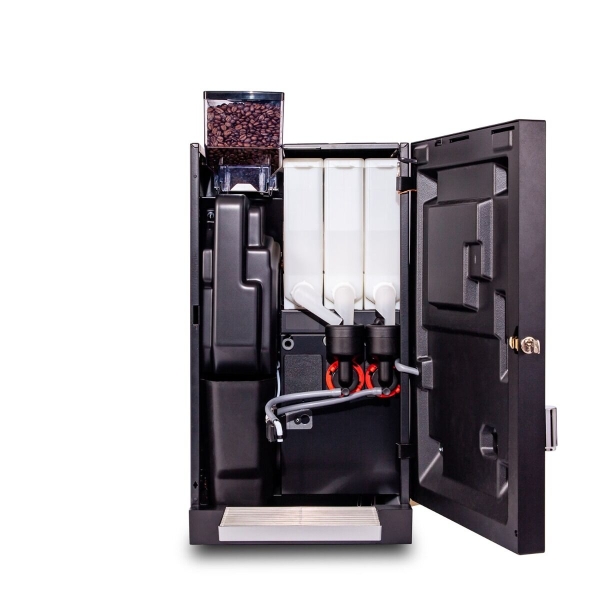 Up to 80 cups per hour
Suitable for coffee beans
Suitable for cocoa powder (chocolate milk)
Suitable for milk topping (coffees with milk such as cappuccino)
The S-Pro is a compact espresso machine with a modern look. Ideal for use in offices that want to enjoy the best coffee specialities. They are freshly prepared from coffee beans ground by the Ditting mill with ceramic grinding discs.
The S-Pro is equipped with up to 3 instant product canisters: koffi beans, milk topping and cocoa. Tea lovers can use the separate hot water spout.
Details
Easy maintenance
The S-Pro is easy to maintain. The koffie machine features an automatic rinsing system and the interior is practical. This makes cleaning a breeze.
Economical in its consumption.
With a self-learning energy-saving mode that remembers lows and peak moments, the S-Pro is economical in its consumption. The machine pre-heats the water before a peak moment and will go into an idle mode at times of low use. So you will always have high-quality coffee and also contribute to a better world.
Satisfied staff, carefree delivery
In consultation, we can offer package solutions with, for example, coffee delivery, disposable cups, sugar and cocoa or a full maintenance contract tailored to consumption.
Technical specifications
| | |
| --- | --- |
| Type | S-Pro Espresso |
| 3 canisters | Max. 3 instant product canisters, 1 bean canister, 2 mixer |
| Dimensions | 680 x 380 x600 mm |
| Boiler | Boiler 1.75 litres Espresso boiler 0.6 litres (9 bar) |
| Capacity | 100 cups per hour |
| Content | 3 - 4 product canisters |
| Residue collector | At least 100 consumptions |
| Power | 230V, 50Hz, 2.1+1.5kW (2250 watt set) |
| Water connection | 3/4" |
| Water pressure | 0.2-8.5 bar |

Features
Max. cup/pot height 110 mm
Simultaneous outlet of hot water and coffee
Automatic rinsing programme
Multilingual
Adjustable strength for all ingredients
With telemetry capabilities
Cleaning programme espresso brewer
Machine warns when canister is empty
Machine warns when residue container is full
Energy saving programme
2 cup sizes
Options
Lockable base cabinet
Cup/cup sensors
Base unit with chilled water
More Information

| | |
| --- | --- |
| SKU | CDJ-KM-VM-SPRO |
| Brand | Café du Jour |
| Produced in | Netherlands |
| Cups per day | 100 |
| Number of users | 10-50 |
| Coffee machine drinks | Café au lait, Café macchiato, Cappuccino, Cappuccino special, Chocolate milk, Double espresso, Espresso, Hot water, Coffee, Sugar, Wiener melange |
Reviews