Café du Jour Perto Bean2Brew (coffee beans)

5075.95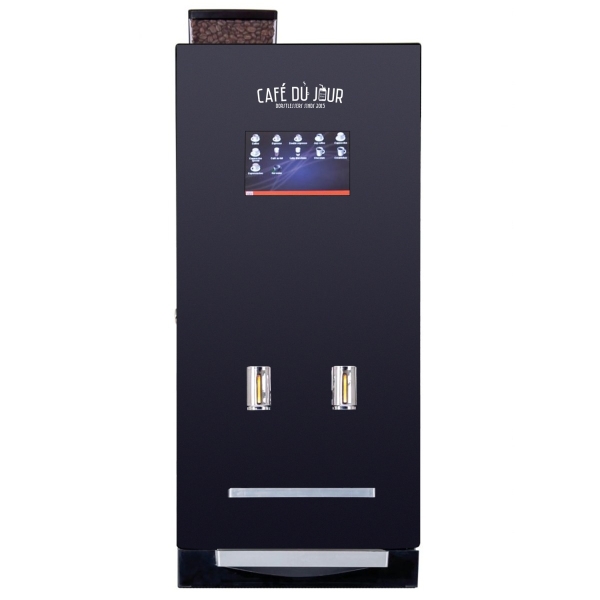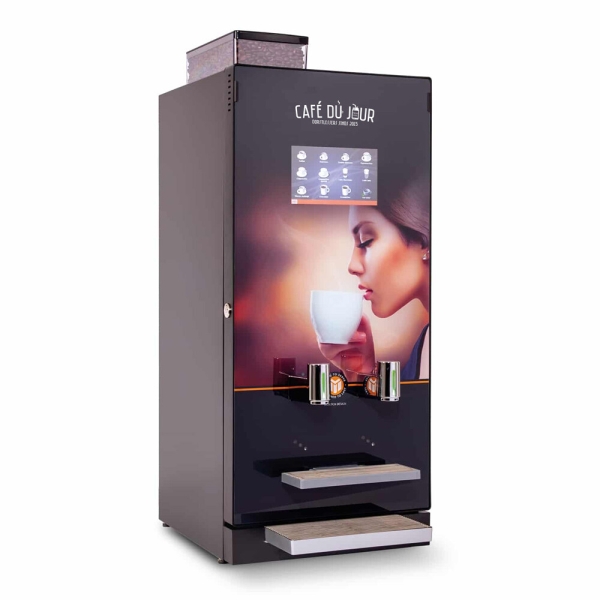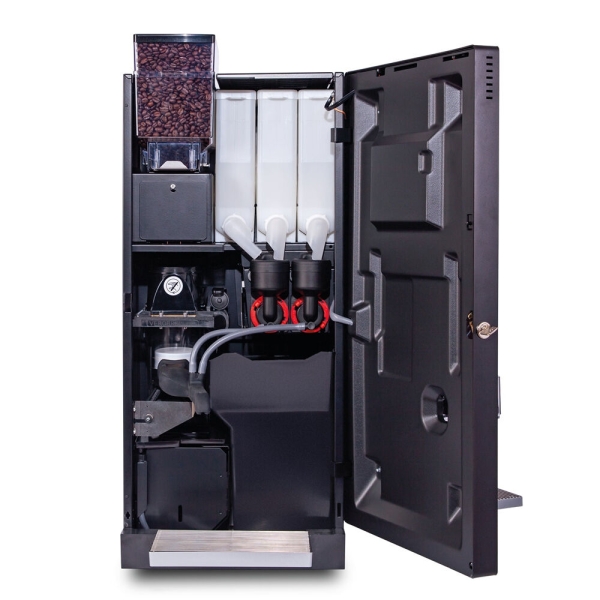 Fast shipping in the EU
Up to 180 cups per hour
Grinds fresh coffee beans and uses them to make filter coffee
Suitable for cocoa powder (chocolate milk)
Suitable for milk topping (coffees with milk such as cappuccino)
Contains a sugar canister
The Perto is a business espresso machine with a modern look. Ideal for use in larger offices. With unprecedented speed, this machine prepares coffee specialities of excellent quality. They are freshly prepared from coffee beans ground by the Ditting mill with ceramic grinding discs. The brewer then ensures the best in-cup quality.
Perto Espresso is very user-friendly thanks to its unique touchscreen. The dual cup sensors ensure that the cup is in the correct position before a consumption is dispensed. Losses and contamination are thus a thing of the past. A jug function is also present with this versatile machine. Optionally, the Perto can be supplied with a coin-change payment system.
Price shown does not include maintenance and coffee contract.
Details
Easy maintenance
The Perto is easy to maintain. The koffi em machine has an automatic rinsing system and the interior is practical. This makes cleaning a breeze.
Economical in its consumption.
Thanks to a self-learning energy-saving mode that remembers lows and peak moments, the Perto is economical in its consumption. The machine pre-heats the water before a peak moment and will go into an idle mode at times of low use. So you will always have high-quality coffee and also contribute to a better world.
Satisfied staff, carefree delivery
In consultation, we can offer package solutions with, for example, coffee delivery, disposable cups, sugar and cocoa or a full maintenance contract tailored to consumption.
Technical specifications
| | |
| --- | --- |
| Type | Bean2Brew |
| 3 canisters | Beans 7 litres** Instant 4.6 litres Instant 2 litres |
| 4 canisters | Beans 7 litres 3x Instant 2 litres |
| Dimensions | 845**x350x540 mm |
| Boiler | Boiler 1.75 litres |
| Capacity | 180 cups per hour |
| Capacity | 3 - 4 product canisters |
| Power | 230V, 50Hz, 2.25kW |
| Water connection | 3/4" |
| Water pressure | 2-8 bar (0.2-0.8 MPa) |

<img style="float: right;" src="https://cafe-du-jour.com/media/wysiwyg/Coffee/CDJ/products/Ditting_Logo.jpg" alt="" width="178" height="60" /&gt
Features
Canisters 18.5 cm
Notification when canister is empty
Residue collector ± 10 litres
Notification when residue container is full
Energy-saving programme
Flip-up cup tray
Adjustable strength for all ingredients
7-inch capacitive touch screen
Menu 5x4 or 4x3 options
Telemetry options
2 cup sizes
Separate hot water spout
Simultaneous spout of hot water and coffee
Stainless steel grinder with ceramic grinding discs
Roasting possibility
Cup sensors
LED display cup position
Automatic rinsing programme
Drip tray sensor
Drip tray removable from outside
Options
Lockable cabinet with or without cup holders, compartments for ingredients
Paper bag collection possible for larger waste capacity in base cabinet
Cold water unit only for installation in base cabinet with flat door
Basic unit with cold water
Payment systems
More Information

| | |
| --- | --- |
| SKU | CDJ-KM-VM-PERTOB2B |
| Brand | Café du Jour |
| Produced in | Netherlands |
| Cups per day | 180 |
| Number of users | 20-75 |
| Coffee machine drinks | Café au lait, Café macchiato, Cappuccino, Cappuccino special, Chocolate milk, Double espresso, Espresso, Hot water, Coffee, Sugar, Wiener melange |
Reviews