Café du Jour Minibar Instant (instant coffee)

1687.95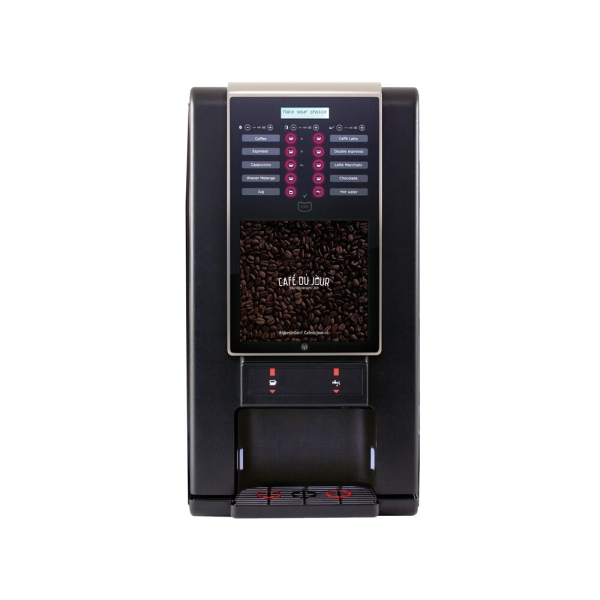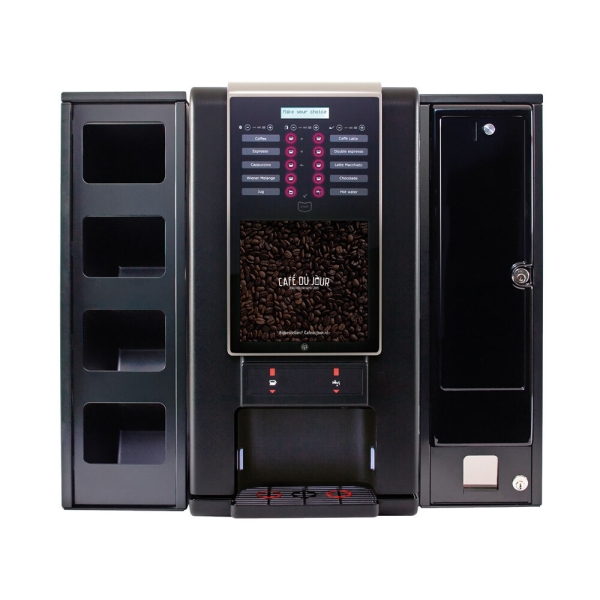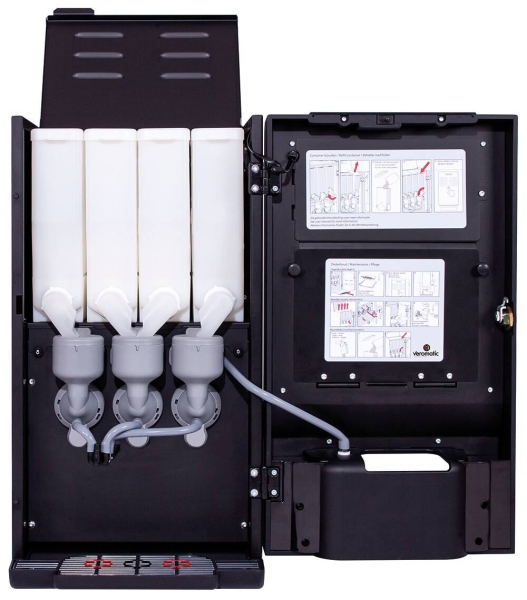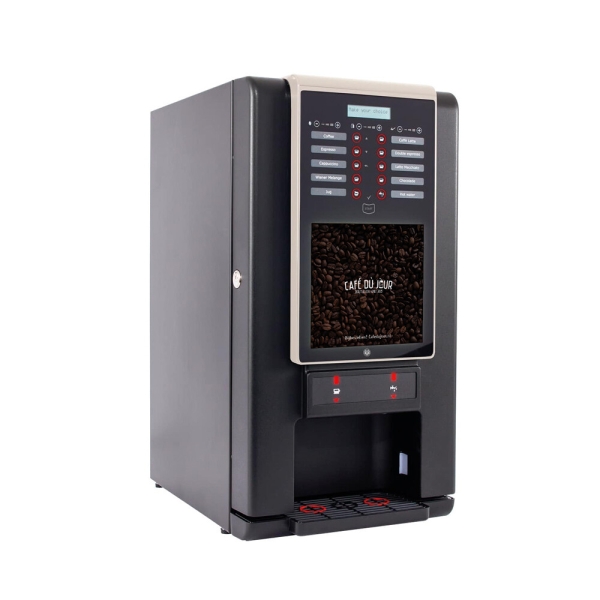 The Minibar Instant coffee machine serves a range of drinks. From coffee, speciality coffees to chocolate drinks. In addition, the machine has a separate spout for hot water. The machine is easy to operate. As standard, the machine has the option to regulate the coffee strength. The machine is also equipped with cup sensors. Chosen settings are easily visible on the 2-line LCD display.
Trial installation is possible under certain conditions. Please contact us for a detailed quotation. The Minibar can be delivered in consultation with a maintenance and coffee contract.
Price shown does not include maintenance and coffee contract.
Details
The Minibar is very user-friendly. It is easy to operate via a touchscreen, which also allows you to adjust the strength of the selected drink. There are 10 options: you can choose from 7 coffee specialities, chocolate drinks, hot water and a jug of coffee (300 ml). The Minibar is equipped with cup sensors. Before the drink can be made, the sensors first register whether a cup has been placed. This prevents wastage and contamination of the drip tray.
The Minibar Instant comes with a user-friendly service programme that makes it very easy to carry out the necessary maintenance work.
Satisfied personnel, carefree delivery
In consultation, we can offer package solutions with, for instance, coffee delivery, disposable cups, sugar and cocoa or a full maintenance contract tailored to consumption.
Technical specifications
| | |
| --- | --- |
| Type | MBI01 - Instant |
| Dimensions | 94x310x461 mm (hxwxd) |
| Boiler | Gravity boiler 1.75 litres 2 kW |
| Canister 1 | Instant coffee 64x250 = 2 litres |
| Canister 2 | Instant topping 64x250 = 2 litres |
| Canister 3 | Instant sugar 64x250 = 2 litres |
| Canister 4 | Instant cocoa 64x250 = 2 litres |
| Capacity | 120 cups per hour |
| Weight | 21 kilos |
| Content | 4 product canisters |
| Power | 230V, 50 Hz, 2000 W |
| Water connection | 3/4" BSP |
| Water pressure | 0.2-0.8 MPa / 2.0-8.0 bar |
Features MBE01
Strength adjustable for all ingredients
2-line LCD display
Touch with many options and LED lighting as response
Intuitive interaction
With telemetry capabilities
Separate hot water spout
Adjustable lighting
3 mixers
Tempered glass door
Double spout
Two cup sensors
Drip tray sensor
Automatic rinsing programme
Drip tray removable from outside
Notification when canister is empty
Energy-saving programme
Max. cup height at coffee spout: 120 mm
Max. cup height at hot water outlet: 115 mm
Jug function for small jugs/cup2go
More Information

| | |
| --- | --- |
| SKU | CDJ-KM-VM-MBI01 |
| Brand | Café du Jour |
| Produced in | Netherlands |
| Coffee type | Instant coffee |
| Cups per day | 120 |
| Number of users | 10-35 |
| Coffee machine drinks | Café au lait, Café macchiato, Cappuccino, Cappuccino special, Chocolate milk, Double espresso, Espresso, Hot water, Coffee, Sugar, Wiener melange |
Reviews