4640.35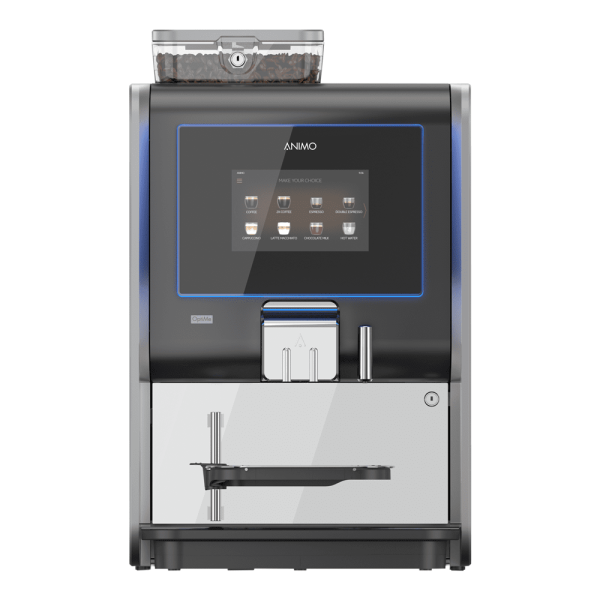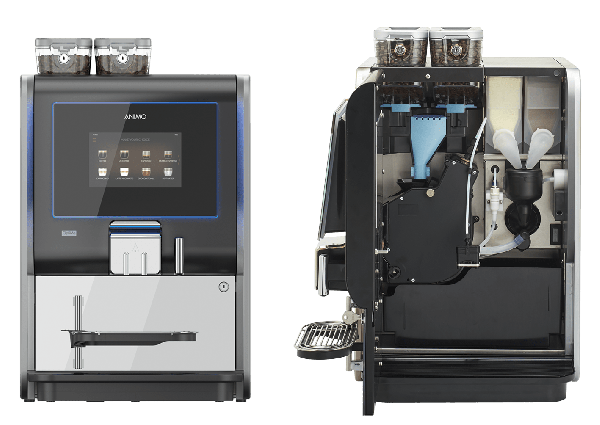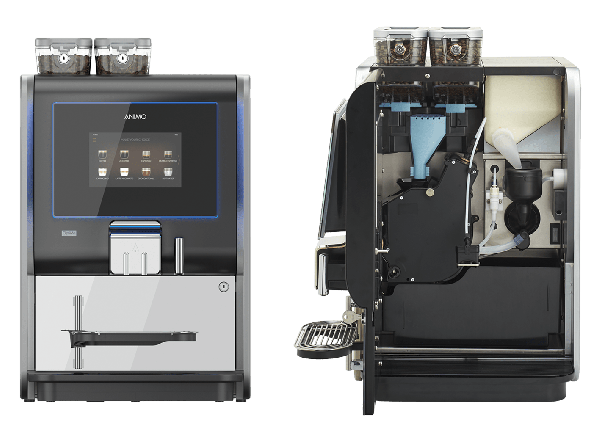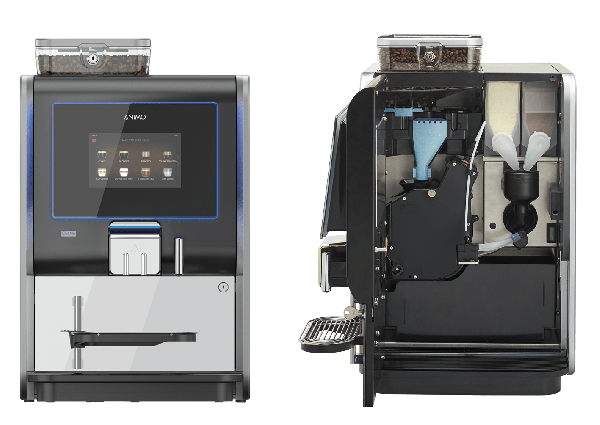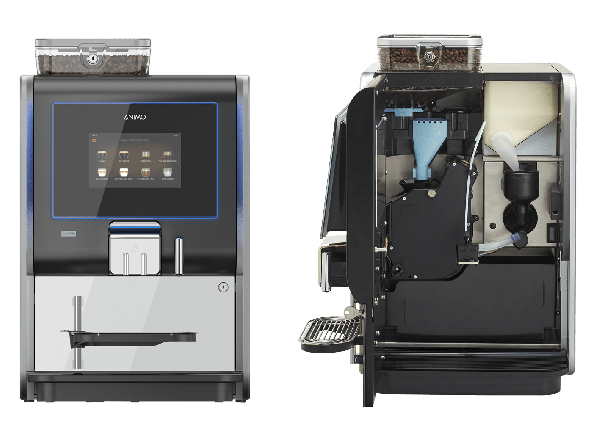 The Animo OptiMe is a real eye-catcher for the office. Compact, fast and delicious coffee. Available in different configurations with multiple bean canisters for different coffee flavours. The OptiMe can also be expanded with a cup warmer and milk cooling unit.
Details
Satisfied staff, worry-free delivery
In consultation, we can offer package solutions with, for example, coffee delivery, disposable cups, sugar and cocoa or a full maintenance contract tailored to consumption.
Technical specifications
| | OptiMe 11 | OptiMe 12 | OptiMe 21 | OptiMe 22 |
| --- | --- | --- | --- | --- |
| Energy efficient | A+ | A+ | A+ | A+ |
| Espresso brewing capacity | 6.5 - 9.5 gr | 6.5 - 9.5 gr. | 6.5 - 9.5 gr. | 6.5 - 9.5 gr. |
| Number of bean hoppers/ coffee grinders | 1 | 1 | 2 | 2 |
| Number of instant canisters | 1 (2.3 ltr.) | 2 (1.6 ltr.) | 1 (2.3 ltr.) | 2 (1 ltr.) |
| Number of mixers | 1 | 1 | 1 | 1 |
| Coffee beans | approx. 1200 gr / 160 cups | approx. 1200gr / 160 cups | approx. 2x 600 gr / 160 cups | approx. 2x 600 gr / 160 cups |
| Topping | (2.3 ltr) approx. 1400 gr / 200 cups | (1 ltr) approx. 600 gr / 85 cups | (2.3 ltr) approx. 1400 gr / 200 cups | (1 ltr.) approx. 600 gr / 85 cups |
| Cocoa | (2.3 ltr) approx. 1950 gr / 120 cups | (1 ltr) approx. 800 gr / 50 cups | (2.3 ltr) approx. 1950 gr / 120 cups | (1 ltr.) approx. 800 gr / 50 cups |
| Dimensions (W x D x H) | 380 x 515 x 600 mm | 380 x 515 x 600 mm | 380 x 515 x 600 mm | 380 x 515 x 600 mm |
| Boiler capacity | 0.5 l, 1800w | 0.5 l, 1800w | 0.5 l, 1800w | 0.5 l, 1800w |
| Brewing time coffee (120ml) | 25 - 30 sec | 25 - 30 sec | 25 - 30 sec | 25 - 30 sec |
| Adjustable cup tray | 50 - 105 mm | 50 - 105 mm | 50 - 105 mm | 50 - 105 mm |
| Max. tap height | 165 mm | 165 mm | 165 mm | 165 mm |
| Connected load | 220 -240V / 50 - 60Hz / 2200W | 220-240V / 50 - 60Hz / 2200W | 220-240V / 50 - 60Hz / 2200W | 220-240V / 50 - 60Hz / 2200W |
| Waste bin | 3 l (approx. 70 cups) | 3 l (approx. 70 cups) | 3 l (approx. 70 cups) | 3 l (approx. 70 cups) |
| Drip tray (easy connection to drain) | 1,25 l | 1,25 l | 1,25 l | 1,25 l |
Features Animo OptiMe
Fresh bean coffee
120 cups per hour
Dimensions: 380x515x600MM
Power connection: 1 phase 240v 16 Amp
3/4" fixed water connection (washing machine tap)
No drain required
Energy class A+
Touchscreen controls
LED lighting
One or two bean canisters depending on type
One or two instant canisters depending on type (for milk or cocoa)
Two-year guarantee
More Information

| | |
| --- | --- |
| SKU | CDJ-KM-ANIMOOPTIME |
| Brand | Animo |
| Coffee type | Coffeebeans |
| Cups per day | 120 |
| Number of users | 5-20 |
| Coffee machine drinks | Café au lait, Café macchiato, Cappuccino, Cappuccino special, Chocolate milk, Double espresso, Espresso, Hot water, Coffee, Sugar, Wiener melange |
Reviews