Royal T Tea Box Handmade Black incl. 60 tea sticks
42.700000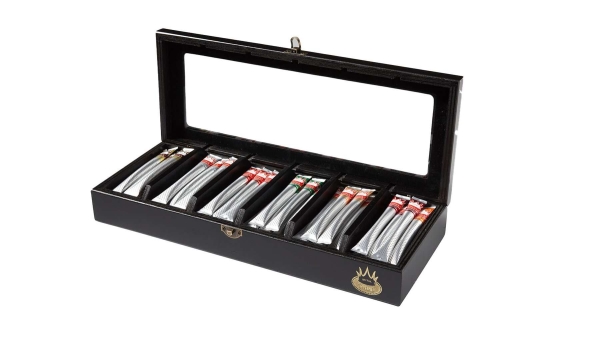 Regular Price
44.95
Special Price
42.70
Handmade Black Oak Tea Box. The perfect gift for a tea lover! The box is divided into six different compartments that fit Royal-T tea sticks
The box is already well stocked with 60 sticks so you can taste some in advance. The varieties in the box:
High Tea, English Melange 10 Sticks
Earl Grey, 10 Sticks
Rooibos, 10 Sticks
Green Tea Lemon, 10 Sticks
Moroccan Mint Green Tea, 10 Sticks
Peach tea, 2 Sticks
Strawberry tea, 2 Sticks
Forest Fruit Tea, 2 Sticks
Lemon tea, 2 Sticks
Orange tea, 2 Sticks
Details
At the Café du jour office we sometimes had to deal with visitors who "didn't like coffee". Aha, well, we're not the worst. We have a very practical solution especially for non-coffee drinkers and coffee drinkers who secretly drink tea once in a while. Tea bags without the mess!
No more tea rings and drops on your desk, no more string sinking in your hot tea and you'll never need a spoon again. So that saves a struggle and less dishes. Look, with those features, our product manager could not resist!
Take Royal T-Sticks out of the package and stir it through your hot water, after you've (optionally) added some sugar. When the tea is strong enough for you, lift it up and let the excess water absorb into the stick. After that, the stick can go straight into the trash.
It makes us very happy, even as hardcore coffee drinkers. That's convincing enough.. isn't it?
More Information

| | |
| --- | --- |
| SKU | CDJ-ROYTKZ |
| EAN | 8718719180648 |
| Brand | Royal T |
| Country of Manufacture | Netherlands |