Gift pack - Coffee Moment Deluxe - 5 items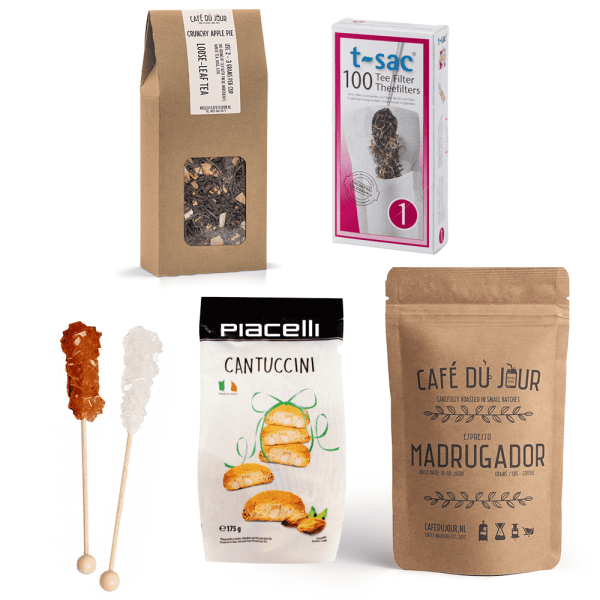 16.94 Regular Price 18.92
Giving a nice package to your employees is of course part of the job as a boss, after all, you have to keep them happy. So what kind of fun and treat are you going to come up with for those hard-working coffee drinkers, exactly! Coffee. But coffee comes with a biscuit, and what if someone only drinks tea, shouldn't there be sugar anywhere in it then, and what actually makes good coffee? No need to panic, we have it all figured out for you. So all you have to do is think about who you want to give this "luxury" package to.
Details
This deluxe package is all about putting you in pure luxury when it comes to coffee and tea. Fortunately, after long discussions and extensive experimentation, we at Café du Jour were able to give the package the rightful stamp of "deluxe". And now you, the boss, are naturally curious to know whether this package does not secretly belong to your own luxurious life, you will be amazed.
Café du Jour fresh coffee - Madrugador - 250g

Coffee beans selected from the best coffee beans from exclusive countries that bring you a luxurious and delicious coffee experience right to your home.

Café du Jour fresh tea - Crunchy Apple Pie

An extremely luxurious tea blend inspired by the delectable smell and taste of apple pie.

Cantuccinis - 175 grams

Italian-made almond biscuits that leave you with a nice touch of Italian luxury.

Candy sticks

Beautiful sugar crystals on a stick to stir through your coffee or tea. Stirring with crystals is real luxury.
More Information

| | |
| --- | --- |
| SKU | CDJ-PKT-KOFFIEDELUXE |
| Brand | Café du Jour |
| Country of Manufacture | Netherlands |
| Cafeïne | With caffeine |
T-sac no.1

Practical items are luxury items and these handy tea bags ensure that you can fill your own tea bags to your own taste at your leisure. To the gram exactly so it is perfect for you alone, true luxury in other words.
It will be difficult to return to normal life after this "deluxe" package, after all, luxury is something you quickly get used to. Fortunately, this is therefore a great motivation for your employees to work hard for a new "coffee moment deluxe" package. So this is how you make your employees happy, and motivate them for new achievements. happy employees and top performance? That might be an employers biggest luxury!
Reviews