Dr Coffee - Office 11 BIG

2479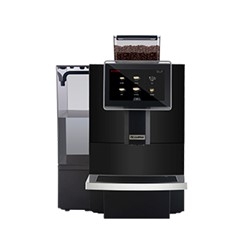 Experience coffee like never before with the Dr Coffee - Office 11 BIG coffee machine. Suitable for up to 100 cups a day, this high-quality machine provides a rich coffee experience within 30-35 seconds. Equipped with an 8-litre water tank, a fixed water connection, and two separate boilers for milk foam and coffee or hot water, this machine promises quality and convenience. With 24 menu choices, a 1kg coffee bean container and a spacious waste bin for 70 cups, the Dr Coffee - Office 11 BIG will redefine your office environment. In addition, its 7" horizontal touchscreen ensures ease of use. With its compact size and powerful 1700-watt performance, this coffee machine is a perfect addition to any office.
Details
Imagine a coffee machine that not only serves the best coffee, but also becomes the heart of your office. The Dr Coffee - Office 11 BIG is just that. Designed to fit into any office environment, this fully automatic coffee bean machine is more than just another coffee machine - it is a statement.
With a capacity to serve up to 100 delicious cups of coffee a day, the Dr Coffee - Office 11 BIG will satisfy everyone. Whether you fancy a strong espresso or a cappuccino with rich milk foam, with a dispensing time of just 30-35 seconds, your coffee will be ready before you know it.
A big advantage of the Dr Coffee - Office 11 BIG is its 8-litre water tank and fixed water connection. This means you don't have to constantly refill water, which can be quite a godsend on busy office days. Moreover, this machine has a hot water capacity of 15 litres per hour, which means you will never run out of hot water, be it for coffee or tea.
The Dr Coffee - Office 11 BIG is equipped with two separate boilers: one for milk foam and one for hot water or coffee water. This feature ensures that every cup of coffee is the perfect temperature, whether you opt for a hot cup of espresso or a hot cappuccino.
The spacious 1kg coffee bean container and 70-cup waste bin ensure you can enjoy fresh coffee without constant refilling or emptying. And with 24 menu choices to choose from, there is something for everyone.
The Dr Coffee - Office 11 BIG is also designed with ease of use in mind. The 7" horizontal touchscreen makes it easy to choose and customise your favourite coffee. The machine is prepared to use fresh liquid milk as standard, adding to the authentic coffee experience.
With an output of 1700 watts, this machine is a powerhouse that delivers reliable performance. Despite its powerful performance, the Dr Coffee - Office 11 BIG has compact dimensions (409 mm wide, 521 mm deep and 569 mm high), allowing it to fit in almost any office space.
The Dr Coffee - Office 11 BIG is not only functional, but also stylish. With its quality brewing group and ceramic grinding discs, it is a beautiful piece of technology that deserves a central place in your office. With its elegant design and advanced features, the Dr Coffee - Office 11 BIG offers a premium coffee experience that will transform your office life. Give your office the gift of excellent coffee with the Dr Coffee - Office 11 BIG.
More Information

| | |
| --- | --- |
| SKU | CDJ-KM-VM-DRCF11BIG |
| Brand | Dr.Coffee |
| Produced in | Netherlands |
| Cups per day | 50 |
| Number of users | 5-15 |
| Coffee machine drinks | Café au lait, Café macchiato, Cappuccino, Cappuccino special, Chocolate milk, Double espresso, Espresso, Hot water, Coffee, Sugar, Wiener melange |
Reviews