Water filter - compatible Claris White screw-on - fits AEG, Bosch, Krups, Siemens, etc.
8.460000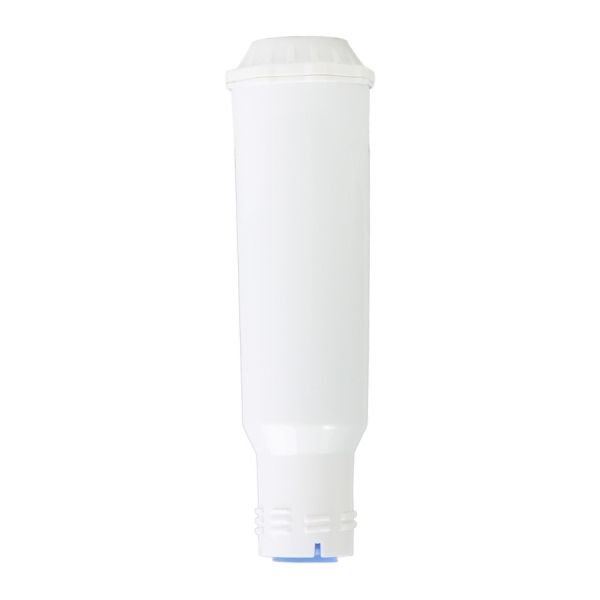 Regular Price
9.95
Special Price
8.46
Compatible with Claris White screw-in water filter cartridge.
Alternative for original type KRUPS F088, NIVONA F088, Bosch TCZ 6003, SIEMENS TZ60003, AEG 9000849514.
Full list of coffee makers is at the bottom of the page.
This water filter purifies tap water from e.g. chlorine, lead and copper, but the machine will not remain free of limescale. We recommend descaling your machine at least twice a year (always remove the water filter before descaling). The cartridge filters 50 litres of water. This is equivalent to about 400 cups of coffee or 1000 cups of espresso. Replace the filter at least every 2 months.
All registered trademarks are the property of their respective owners and are mentioned for compatibility purposes only.
Details
Fits:
Krups: EA9010, EA8010, EA8441, EA8165, EA8050, EA829E, EA8080, EA816B, EA8105, EA815E, EA693E, EA8298, EA850B, EA829D, EA8808, EA8432, EA816 EA8107, EA8150, EA8161, EA820, EA820, EA820, EA820E , EA829E, XN410T, XP5210, XP7200, XP7240, XP5000, XP5050, XP508 , F892, EA8000, EA8025, EA8200, EA8220 EA8240, EA8245, EA8255, EA8260, EA7020, EA6990, EA6935, EA6930, EA6910, EA8015, EA8017, EA8019 , EA801B, EA802B,EA8038,EA8251, EA8258, EA8271,EA8278, EA827E , EA8280, EA828E, EA8320, EA8321, EA8322, EA8340, EA8421, EA8422, EA8442, EA8448, EA9000, EA900H, XP5000, XP5050, XP5220, XP5240, XP5250 , XP40
AEG: C400, CF100, CF120, CF300, CF400, CF500, CF80, CF81, CF85, CF90, CF95, EA100
BOSCH: TCA 6709, TCA5309, TCA5601, TCA6701, TCA5608, TCA5609, TCA6401, TCA6709 TCA600101 TCA600102, TCA600103, TCA600104, TCA6001CH01, TCA6001CH02, TCA6001CH03, TCA6001CH04, TCA6001UC02, TCA6001UC03, TCA6001UC04, TCA60F902, TCA60F903, TCA60F904, TCA630101, TCA630102, TCA630103 , TCA630104, TCA630105, TCA6301CH02, TCA6301CH03, TCA6301CH04, TCA6301CH05, TCA6301UC02, TCA6301UC03, TCA6301UC04, TCA670101, TCA670102, TCA670103, TCA670104, TCA670105, TCA6701CH01, TCA6701CH02, TCA6701CH03, TCA6701CH04, TCA6701CH05, TCA670902, TCA670903, TCA670904, TCA670905, TCA6709CH02, TCA6709CH03 , TCA6709CH04 TCA6709CH05, TKN68E75001, TKN68E75002, TKN68E75003, TKN68E75004, TKN68E750B01, TKN68E750B02, TKN68E750B03, TKN68E750B04, TKN68E75103, TKN68E75104, TKN68E75GB03, TKN68E75GB04, TKN68E75UC02, TKN68E75UC03
GAGGENAU: CM200110, CM20011001, CM20011002, CM20011003, CM20011004, CM20013002, CM20013003, CM20013004, CM20061001, CM20061002, CM20061003, CM20063002, CM20063003, CM21011004, CM21011005, CM21011006, CM21011007, CM21013004, CM21013005, CM21013006, CM21013007, CM21071003, CM21071004
NEFF: C7660N0, C7660N0GB, C7660N1, C7660N1GB
NIVONA: 650, 610, 620, 626, 630, 635, 646, 710, 720, 725, 730, 740, 745, 750, 757, 765, 767, 770, 777, 830, 831, 840, 845, 850, 855
SIEMENS: TK52002, TK60001, TK64001, TK64F09, TK68001, TK68009, TK69001, TK69009, TK58001, TK54001, TK60001, TK64001, TK68001, TK69001, TCA6371, TCA6371, TCA63071
More Information

| | |
| --- | --- |
| SKU | CDJ-TB-WF-SP-CLARISWHITE-SCHR |
| EAN | 4012074052058 |
| Country of Manufacture | China |
Reviews