Café du jour single origins fresh roasted coffee 7 x 250 gram
39.95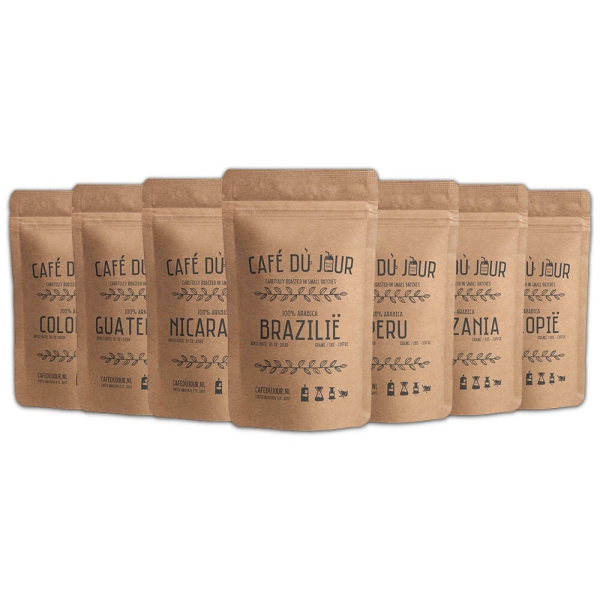 Freshly roasted single origin coffees
This sample pack of freshly roasted Café du Jour coffees consists of 7 x 250 grams of single origin coffee. Each sachet contains 100% Arabica coffee from one region. The perfect way to get an idea of the different flavors from different regions. For example, you may taste that the Ethiopian coffee is a bit more spicy, the Brazilian coffee is more subtle and harmonious and the coffee from Guatemala is more fruity.
The coffees in this package:
Ethiopia: a spicy coffee ideally suited for espressos. A bit intense with a medium body and a medium acidity.
Brazil : Suitable for beans as well as filter coffee, a fine all-rounder with hints of chocolate and nuts.
Peru: is a compact bean, somewhat more complex than the other coffees. This complexity creates a totally unique taste that is soft on the palate.
Colombia: This coffee has something chocolatey, which makes for a pleasant sweet aftertaste with a fine aroma and medium acidity.
Nicaragua: comes from the high mountains, this coffee is characterized by its large beans everywhere. this makes it a mild taste with nutty and fruity undertones.
Rwanda: A delicious and honest coffee that resulted from working together. The aromas of this bean are citrusy and spicy. The taste is best described with hints of forest fruits, cocoa, pepper and licorice. Together this makes a delicious coffee.
Guatemala : is known for its sour taste. It is a lot more "fruity" than most coffees and much less bitter, it might take some getting used to but really tasty!
Details
Café du jour Coffee beans
The coffee beans of Café du jour's own brand are roasted in small batches by a specialist roast master. The beans are stocked and roasted weekly, so the roasting date is always recent. The roasting date is always stated on the coffee label.
Resealable Coffee packaging.
Whether you decide to buy 250 grams, 500 grams or a kilo coffee beans the packaging will always be resealable. The coffee packaging is provided with a special resealable edge so the packaging is always closed airtight. On the front of the bag is fitted with a filter so air and other gasses can escape the bag without letting air in. This is how we make sure everything is done to save the freshness of your coffee!
More Information

| | |
| --- | --- |
| SKU | CDJ-CDJSO7X250 |
| EAN | 8719326318066 |
| Brand | Café du Jour |
| Pack size | 2 kilo |
| Coffee type | Coffeebeans, Ground coffee |
| Intensity | Variable |
| Taste & aroma | Various |
| Variety | 100% arabica |
| Country of origin | produced in The Netherlands |