Café du Jour Descaler 500ml (For descaling 4x)
4.95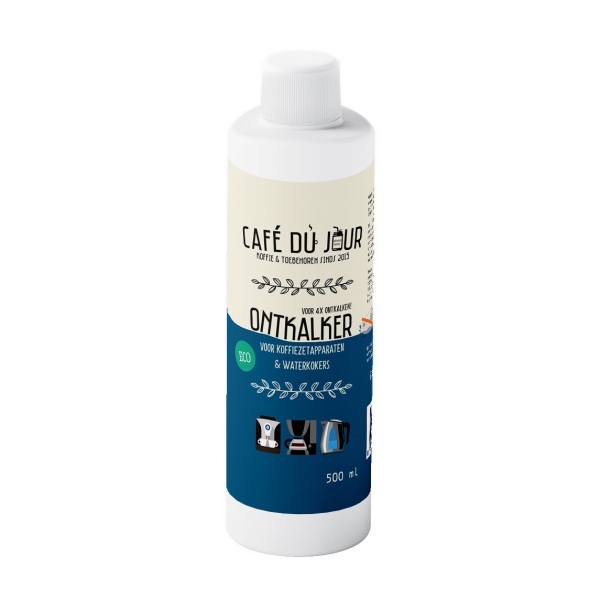 Regular Price
6.95
Special Price
4.95
Regular descaling extends the life of your coffee machine and improves the taste of your coffee!
Café du Jour descaler is ideal for quickly and thoroughly descaling your coffee machine. Depending on the size of your coffee machine, fill the water reservoir with approximately 125ml of descaler. You fill it up to 500ml with clean tap water.
Then let it sit for ten minutes, then let half of the water run through and after another ten minutes, repeat this with the rest of the water. Then rinse with clean water and your coffee machine is ready for use again!
Suitable for all types of coffee and espresso machines with a water reservoir. Also suitable for coffee pad machines such as Senseo machines
Details
Description of the descaler
Safe, effective and very easy to use descaling agent based on 100% natural ingredients. Contains no preservatives, phosphates, chlorine, bleaches and microplastics. All ingredients used are natural.
This bottle is good for four descaling cycles, each time adding 125ml of descaler with 375ml of water (so 500ml in total). If necessary, you can immediately repeat the descaling cycle. This bottle is made of food-safe and recyclable plastic.
Produced and filled by Café du Jour.
Suitability and Compatibility
This descaler is universal and therefore suitable for almost all brands and types of coffee machines and kettles. For example, the descaler is suitable for all espresso machines from Bosch, Siemens, De'Longhi, Phillips, Jura, Krups, Melitta, Senseo and Nespresso.
User manual Café du Jour coffee machine descaler
Pour 125ml Café du Jour descaler into the water reservoir and top up to 500ml water (4x diluted). Let the solution act for ten minutes. Then turn on the device and let half of the liquid run through. Switch off the device, let it work for another ten minutes and then let the rest of the solution run through until the reservoir is completely empty. After the treatment, rinse the reservoir well and then fill it with clean tap water. Then run the appliance at least three times with only water so that no limescale residues or sour aftertaste remain.
Always consult the manual of your coffee maker or espresso machine first. This one is leading. For machines with coffee pads, first place a coffee pad holder with a used coffee pad so that any limescale residues are collected in it.
For descaling kettles: add 125ml descaler with tap water to a total of 500ml. Let rest for ten minutes and then rinse with clean tap water.
CAUTION: Transport and store bottle upright. Do not inhale any fumes from the device. Do not use this product on acid-sensitive surfaces and calcareous surfaces such as marble etc.
WARNINGS AND SAFETY RECOMMENDATIONS ACCORDING TO EU DIRECTIVES:
H319- Causes serious eye irritation. P101- If medical advice is needed, have container or label available. P102: Keep out of reach of children. P264- Wash hands thoroughly after handling. P305+P351+P338- IF IN EYES: Rinse cautiously with water for several minutes. Remove contact lenses, if possible. Keep rinsing. P337+P313- If eye irritation persists: Get medical advice/attention.
More Information

| | |
| --- | --- |
| SKU | CDJ-ONTK500ML |
| EAN | 8719326318059 |
| Brand | Café du Jour |
| Country of Manufacture | Netherlands |
| downloads | Download instructies |